April 18th, 2015
Yay for Anna Kate's big #6 birthday party!  We have been excited about this one for years, and she has patiently waited to have a party she could invite everyone she loves to with no limit!  I spent hours and hours painting the lemonade stand, and it turned out just the way I envisioned!  I've got a few more details to add, but I'm really excited it turned out so bright and colorful!  I love how the girls are holding hands in the second picture.  At the end of the day, they are total BFFs!  They do get in fights, a lot, but their love is so strong, and I already admire their bond and the way they comfort and take care of each other!
Caden had a baseball game but was super worried about getting his present to Anna Kate, so he stopped by early to give her a birthday hug!  Jillian, Riley and Lesleigh were my teenage helpers today.  They ran the lemonade stand and made sure we only had 2 jumpers at a time on the trampoline.  We had lots of fun stations during free time and two organized games.  It actually worked out really well and wasn't nearly as chaotic as Noelle's kinder birthday.  It's always easier doing anything the second time around!  Thank you girls for all your hard work and loving on Anna Kate!  She felt so special you guys were there!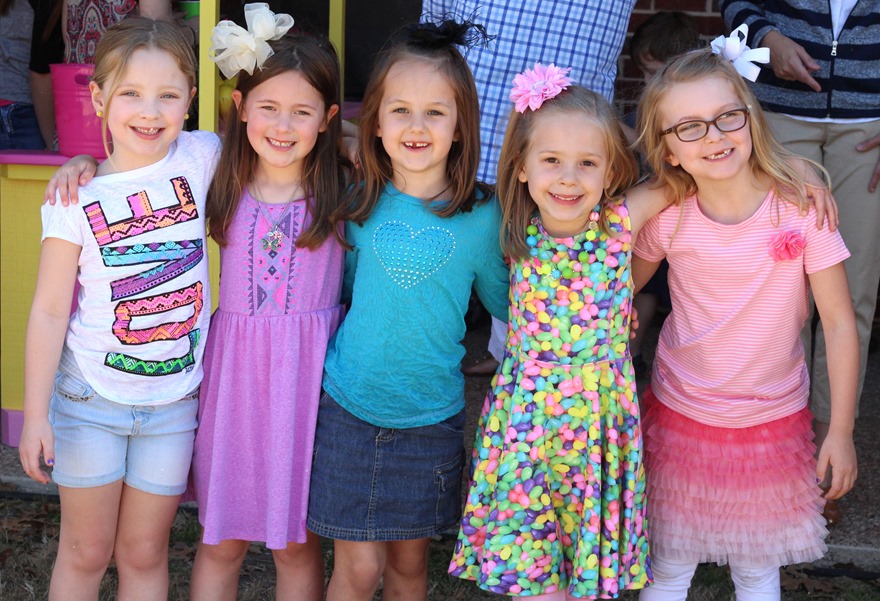 Brylee, Campbell, Sydney, Anna Kate, and Brooke posing before heading in 5 different directions to play some more! 
Anna Kate invited some of Noelle's friends that come over so much, they are friends with all the Pond girls!  So sweet.  Emily, Carson, Brianna and Noelle were having a blast!  Yay!
About the right picture above, Rose is always a hot mess (no surprise, but you betta watch out), and our girls have personality plus, each in their own unique little ways!  Love these girls.  They work hard and they play hard, and we are so very proud of them!  They put a lot of work into this party themselves.  It was awesome having a bunch of little helpers, eager for each new task they were given.  I felt like I had go go gadget arms for the first time! I could get used to that!
Poppa and Rara came to our house to celebrate Noelle's talent show performance and Anna Kate's birthday with us! So glad they were able to make it!  
I found Malia in her old doll house that she gave Rose a couple years ago.  She told me she was checking to make sure the door bell still worked and was proud to report that it did!  I love this beautiful girl!
This picture reminds me of the song lyrics and a quote on a shirt that I just bought Anna Kate for Easter: I get by with a little help from my friends.  A few of these ladies are new friends, who I'm excited to get to know better, but most I've shared many a ladies nights out with this year and couldn't live without them! 
Little sissies, Rose and Eden, had fun seesawing together!
Getting ready for the jelly bean game with buddies Nathan (who wrote Anna Kate the Valentine in the Feb YOLO post) and Will.
Friends since birth, Anna Kate and Landon, have the sweetest little friendship!  Landon is such an awesome kid!  The Pond girls are in love with the Fearing boys!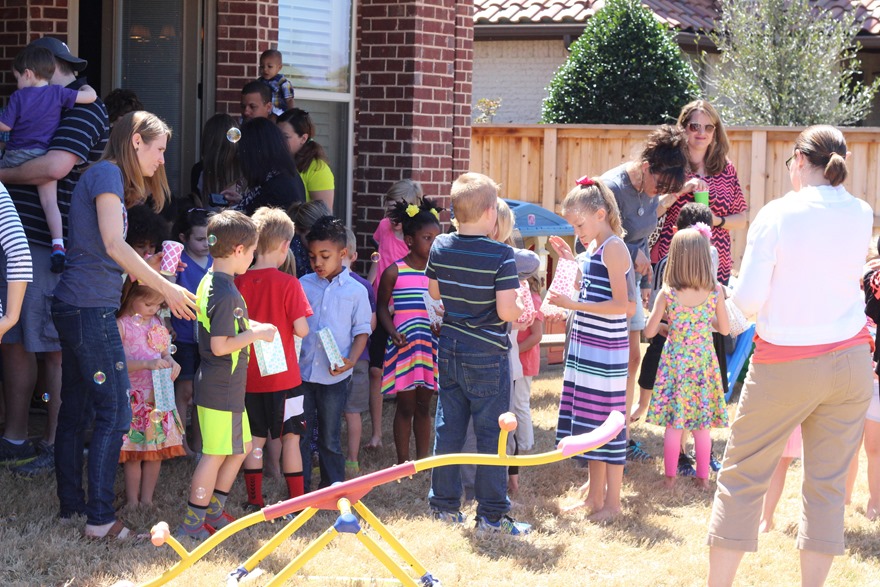 The first organized group activity was a jelly bean trading game.  Each kid started out with 10 different colored jelly beans in their bag.  They had to go around and trade jelly beans with their friends to try to end up with 10 of the same colored jelly beans in their bag.  They could chose any color they wanted to start collecting.  The older kids had a lot of strategy going on, but it was still easy enough for the kindergarteners to play and have fun too.  Perfect!  Whoever got all 10 of their jelly beans the same color first, was the winner.  We had prizes for the top 3 winners.  From what I saw, the kids loved this game!  If you have a large number of kids in one place and a quick activity, try it!  We had a lot of fun!
Such a sweet moment watching Anna Kate blow out her candles.  I didn't notice until I started working on this caption that Noelle put her hand over Rose's mouth (again) to make sure she didn't blow out Anna Kate's candles.  We all have to keep Rose in check, God love her!  One of my BFFs and her little ginger, Liv, enjoying this beautiful Saturday that we were so lucky to be a part of!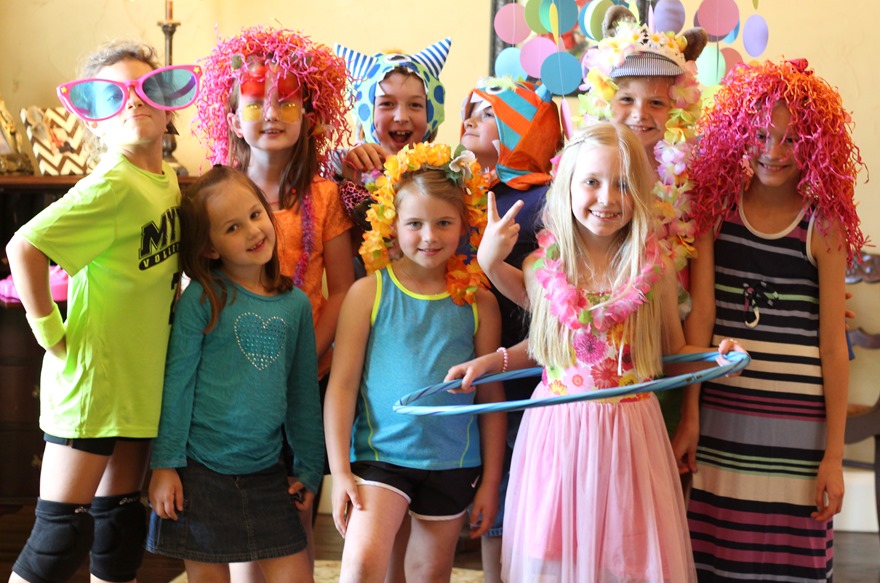 I made a little homemade photo booth in our dining room.  We cleared out all the furniture, and I hung garland strips off the chandelier.  The kids had too much fun with the props and posing!  I have a million different combinations of kids on my computer being silly in here!
I love getting a group photo each year at the girls' birthday parties because it's fun to remember everyone who was so sweet to celebrate with us!
Our friend, Brendan, was in charge of dispensing like-colored jelly beans for the Bean Boozled Challenge game that my kids absolutely LOVE!  They ask to play it every single time they have a friend over without fail, lol!  I've explained it on the blog before, but let's say there are two green colored jelly beans.  They could be the flavor lime (you get to stay seated) or lawn clippings (you're out and go sit down).  The audience (the rest of the kids) tries to guess who has which flavor before they announce it or spit it out.  It's seriously hilarious!  Kids have the best unfiltered facial expressions.  Malia was in route to the "spit cup" in the middle picture because she got bean boozled!  We had a slideshow going on the TV throughout the party of our favorite pictures of Anna Kate's first 6 years.  Her favorite music was on as well.  Wanna take a guess what it was? 

More buddies, Anna Kate, Brylee, Sadie, Sydney and in the picture on the right, Cole.  Such great kiddos!
Remember Luke from Mrs. Paula's?  Luke and Anna Kate have played countless hours together in pre-school paradise in years passed, and we had so much fun catching up with him and his sweet Mama!  Caden got to come back and play for a little bit after his baseball game.  Anna Kate, Caden and Vivienne are all neighbors, and their Mamas are some of my besties! 
Anna Kate's amazing teacher, Mrs. Lawless, surprised her and came to her party!  I've given her "The Above and Beyond Award" this year!  You can't think up all the wonderful ideas she has to engage the kids and then super fun playful deliveries that have Anna Kate practically screaming off the bus because she can't wait to tell me what Mrs. Lawless did or let them do that was "Above and Beyond." One of my favorite things from this year was when she had each child write their parents a thank you letter for going on the field trip with them.  Reading Anna Kate's thoughts in writing made me cry.  Field trips are very hard on my body.  The only times I've ever been to the zoo since being a parent are on the kinder field trips (2 times in 9 years).  My heart is so full, but my body suffers through it, and I'm always sick the following week while I recover. So to get that note was huge fore me.  It literally made me cry.  I would've never thought to write the parents a thank you note.  She also makes the kids write apology notes to each other when needed.  Her classroom is full of respect and more fun than you can imagine!  Anna Kate comes home peppy and happy and full of new knowledge, just the way you hope it will be.  Beyond grateful for such an awesome kinder experience for Cutie Kate!  And then Anna Kate asked for one more picture with the big girls all by herself.  She felt so special and her heart was so full!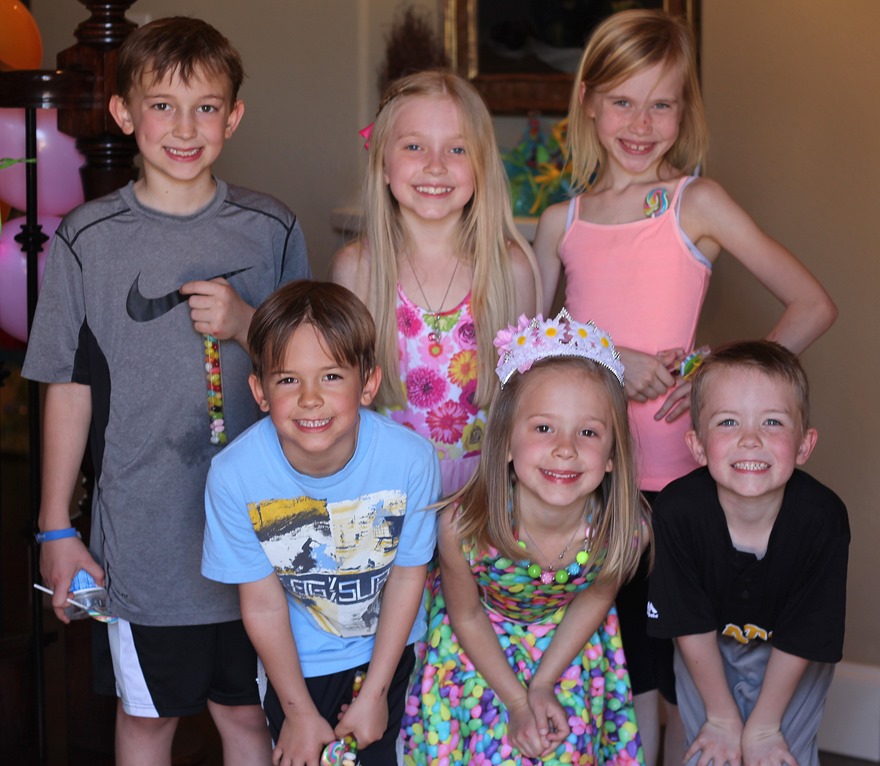 Noelle and Anna Kate are so lucky to have so many sibling sets in both of their grades (kinder and 3rd).  Three of them here are Aaron (back row) and his brother Will (front row in blue), our girls, Brianna (back right) and her brother Caden (front right).  They loved the idea of this sibling picture and were so proud of their brothers/sisters!
Aaron has been a really sweet friend to Noelle this year, and that helps knowing a boy on the play ground has your back! 

Malia and Anna Kate just get each other.  They play so well together and love each other so much!  Noelle and Jada are the big sisters in their families and instantly bonded over that (Jada has 2 little sisters and 1 little baby brother).  Sweet girls!  I know I always say that, but it's true!
The Pond girls and the White girls almost all partied out.  They all look so cute in their sugar comas, lol!  Anna Kate really wanted a picture holding her dress. If Anna Kate calls me over to take one more picture, I'm jumping. She doesn't like the camera as much as the other two do, but we all enjoy having them so much, and they are always rotating on our TV screen saver!
Kay Kay and Grandpapa brought Noemi to the party, so all of their grand daughters could be together and play.  Noemi's parents were moving this weekend, so we missed them!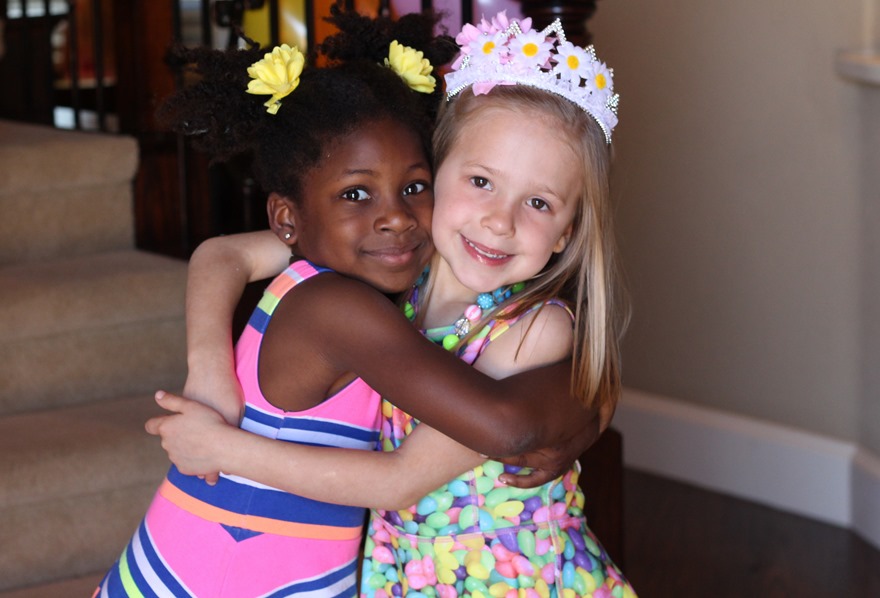 This is what you call heart friends right here.  Malia's mom and I talk all the time about how totally different these girls are, but it's like the saying goes, opposites attract.  And that they do!  They take care of each other at school and play hard when they get home.  We were blessed with the best neighbors and friends, and these girls are so lucky to have each other.  I truly admire their special little friendship and bond.
Fun party girls! Thankfully, Malia and her mom stayed to help us open presents. I would've been lost without Susie's help.  We organized it all and took our sweet time enjoying each and every thoughtful gift.  Anna Kate and I just finished our last thank you note today!  We were so overwhelmed by the generosity and love from our friends.  Anna Kate will be busy all summer with the toys, games and crafts she got.  We put everything in a box for her, and she gets to pick two things to take out of the box and play with each week until they are all gone.  It spreads out the gifts, and they don't get torn through and/or parts separated.  She will intentionally and thoughtfully enjoy each and every gift.  It's a good system that works for us.  I've thought about doing a donation of some kind in lei of a gift, and someday when the girls get a little older, I want to do that and think we can make it super fun for the girls, but at this age, she happily gives presents to her friends all year long and watches them as they open them and get showered with love, that it makes sense that she would get a turn too. We all make the best decisions we can and do what we feel is right for our children at each stage of their development.  Above are a few ideas of how we try our best to create grateful, thoughtful and intentional little girls, whose hearts are filled with thankfulness and love! 
We try to do a kiss picture for each girl each year.  We've missed a few along the way, but it's a fun tradition to keep alive!  I think it's one of Anna Kate's favorite things she looks forward to on her birthday.  She gets so giddy and giggly, makes me smile thinking about her sweet heart. She calls this and moments like these, "special attention."  Occasionally, she'll ask Mike and me if she can have special attention, and we know what she means.  We'll tag team tucking her in at night with kisses at the same time on each cheek or we'll go cuddle in our bed with just Anna Kate in the middle for a few minutes while we talk about whatever she has on her mind, which usually ends with tickling or playing footsies or both.  She's such a great kid! Sometimes it's hard being stuck in the middle.  It really is.  I get it, but I'll go to bat for this kid any day.  She is truly a sweetheart, and we had the time of our lives celebrating Anna Kate with all of her friends today!